A better kind of personal finance blog
Meet GLAAD and Pride Unboxed
We are excited to announce that Porte is the presenting sponsor of GLAAD's Pride Unboxed 2021. Each box is packed with items that are aimed at delivering a sense of community, resilience, self-love, and self-care to GLAAD members and supporters. Continue reading below to learn more about:
GLAAD and its mission
Porte and #DoorToChange
How to support GLAAD year-round
How to get a Pride Unboxed gift set of your own
anchor
Who is GLAAD, and what do they do?
GLAAD is the world's largest lesbian, gay, bisexual, transgender, and queer (LGBTQ) media advocacy organization. They work through entertainment, news, and digital media to share stories from the LGBTQ community that accelerate acceptance.
GLAAD was founded in 1985 in response to the defamatory and sensationalized media coverage of HIV/AIDS and the gay community. Today, the organization has evolved to become a culture change agent in film, journalism, and other areas of media to increase and enhance LGBTQ representation and visibility.
While GLAAD has a robust history of being at the forefront of cultural change for the LGBTQ community, today their key areas of work include:
GLAAD Media Awards: Since 1990, GLAAD has hosted the GLAAD Media Awards, which honor media for fair, accurate, and inclusive representations of LGBTQ people and issues. The GLAAD Media Awards are the most visible LGBTQ event in the world, with over 7 billion media impressions each year.
News and Rapid Response: Working closely with journalists and news outlets in print, broadcast, and online, GLAAD serves as a resource to ensure that the news media is accurately and fairly representing LGBTQ people in its reporting.
GLAAD Media Institute: Created in 2017, the GLAAD Media Institute (GMI) enables people to build the core skills and techniques that effectuate positive cultural change. Through its three pillars - research, training, and consultation - the GMI helps constituents and partners to increase and enhance LGBTQ visibility and inclusion. The GMI encompasses GLAAD's programmatic work in various areas of media and activism, including Entertainment Media, Spanish Language and Latinx Media, Transgender Media, and Communities of Color.
anchor
Who is Porte, and what do they do?
Porte is your financial door to more. We believe your banking experience2 is about more than money. This is why we're committed to helping you navigate a path towards financial freedom. We do this by giving our customers four things:
Porte offers the opportunity to earn more money.
You can earn up to 3.00% APY with an optional Savings Account, helping you accelerate your journey to financial freedom.³
Porte offers the opportunity to take more control.
You can get paid up to 2 days faster when you use Direct Deposit.⁴ There are no monthly account fees.⁵ And you can receive real-time alerts about your account thanks to our easy-to-use app.¹
Porte content offers the opportunity to learn more.
Our educational blog posts and helpful money tools are designed to help you with your money and debt management.
Porte offers the opportunity to do more good.
Thanks to our #DoorToChange program, when you choose a charity partner in the app and make purchases with your Porte card, we make a donation at no extra cost to you.⁶
anchor
Why did Porte partner with GLAAD?
Since December of 2020, GLAAD has been part of Porte's #DoorToChange charitable giving program. Our #DoorToChange program is simple — when you choose a charity in the app and use your Porte card for purchases, we make a separate donation to the charity.
When we were determining which charities we wanted to partner with, we focused on developing partnerships with organizations that:
Make a positive impact socially or environmentally;
Represent, protect, and fight for overlooked and/or marginalized communities; or
Align with what Porte and our members are passionate about
GLAAD fulfills each of these requirements. We're thrilled to have the opportunity to support GLAAD's work and to give our members the opportunity to support them, as well.
anchor
How do I select GLAAD as my #DoorToChange charity?
You can support GLAAD year-round by selecting them as your #DoorToChange charity. Follow these steps to start supporting GLAAD:
Log in to your Porte app.
Select "Support a cause that matters to you" from the dashboard.
Select GLAAD.
That's it! After you follow these steps, you can feel good knowing that as you spend money with your Porte card, we make a separate donation to GLAAD. There is no additional cost to you to support GLAAD!
Although you can only support one charity at a time, you can change your selected charity as often as you like.
anchor
What is Pride Unboxed?
In summer 2020, many states in the United States were still in the midst of a lockdown due to the COVID-19 pandemic. For those states not in a lockdown, there were strict social distancing guidelines for community members to follow, meaning large gatherings of any kind were not permitted.
During this time, GLAAD wanted to find a way to ensure the LGBTQ community could still celebrate Pride Month at home while practicing social distancing. This led to the creation of Pride Unboxed.

Pride Unboxed is a gift set filled with more than 20 products and promotions from GLAAD and LGBTQ inclusive brand partners. Each item is aimed at delivering a sense of community, resilience, self-love, and self-care to GLAAD members and supporters.
For 2021, Porte is the presenting sponsor of Pride Unboxed, and we couldn't be more excited. Sponsoring this program means we'll have the opportunity to help fund the distribution of these boxes and share a little extra love with the lucky recipients. This means that, even as the pandemic continues to affect so many people, Pride Month can still be a joyous occasion.

anchor
How can I get a Pride Unboxed gift set?
There are only 500 boxes available this year, so to call it a sought-after item is an understatement! There are a few ways to get a Pride Unboxed gift set:
Become a GLAAD Monthly Member by making a monthly donation to GLAAD to support their work. Pride Unboxed gift sets will be supplied to new GLAAD monthly members who sign-up on or after June 1, 2021, while supplies last.
Follow Porte on Instagram. Look out for our posts about Pride Month! We'll give a Pride Unboxed gift set to the first two people who comment on those posts, where noted!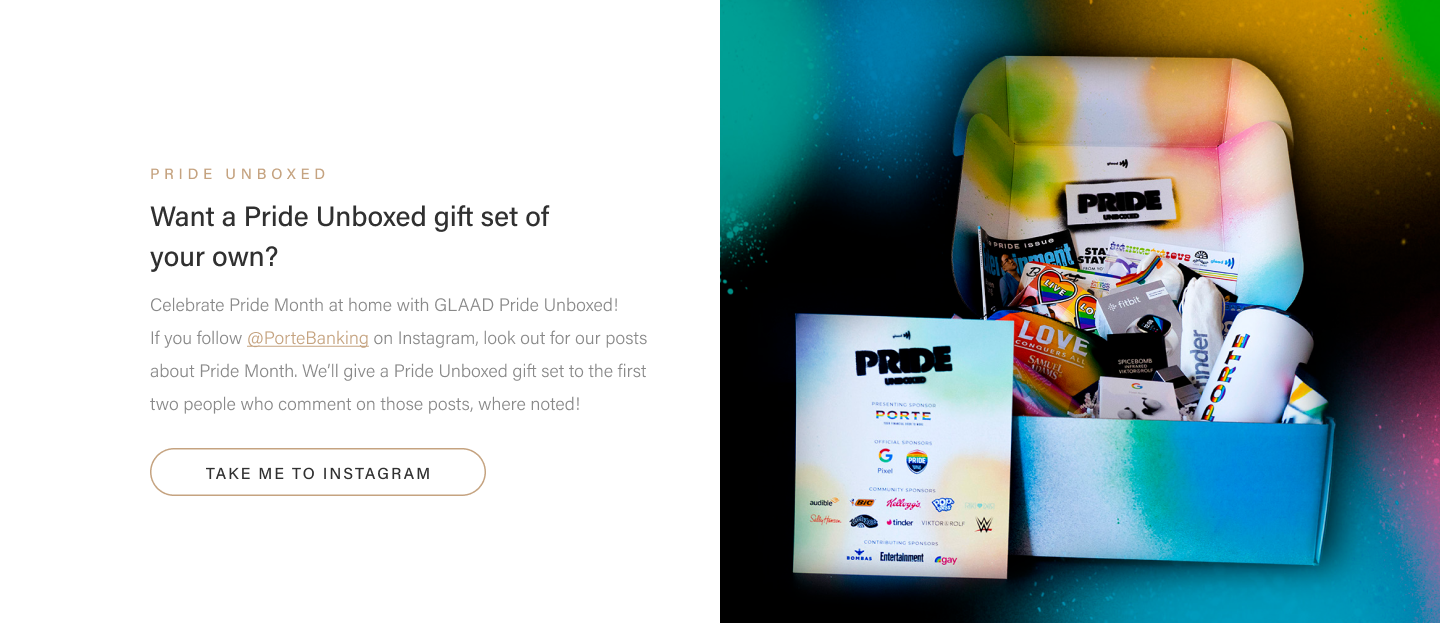 We wish you all a meaningful Pride Month!
---
Are you ready to change how you bank?
Apply for an account using the Porte app.1 No credit check required.2
sign me up
Porte is a mobile finance app, not a bank. Banking services provided by Pathward, National Association, Member FDIC