Banking without the branch
Mobile banking app
A mobile banking app designed just for you. Gain access to account alerts1, mobile check capture2, and much more when you join Porte.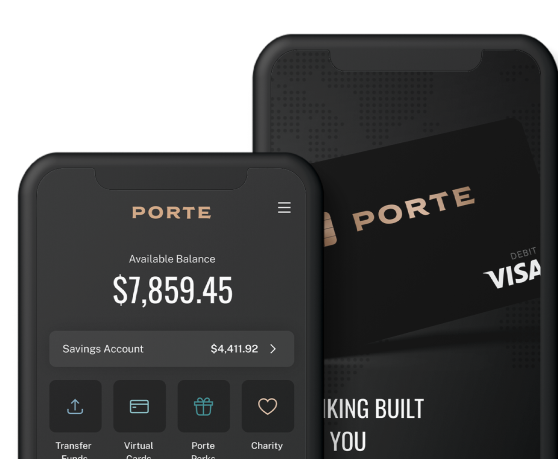 Porte is the mobile banking solution that checks every box
Visa® debit card
No monthly fee3
Add cash4
Up-to-date account alerts
Mobile check capture2
Get paid up to 2 days faster5 with Direct Deposit
Contactless payment with Tap to Pay, Apple Pay® & Google Pay™
Sign me up
Banking services provided by Pathward, N.A., Member FDIC.
Know your balance at all times
You'll actually want to read these app notifications.1 Get account balance alerts to keep you updated while you're on the go. We'll notify you:
When you get paid up to 2 days early5 with Direct Deposit
Anytime your debit card is used
If a withdrawal is made
No FOMO with Porte. You'll always know your account balance.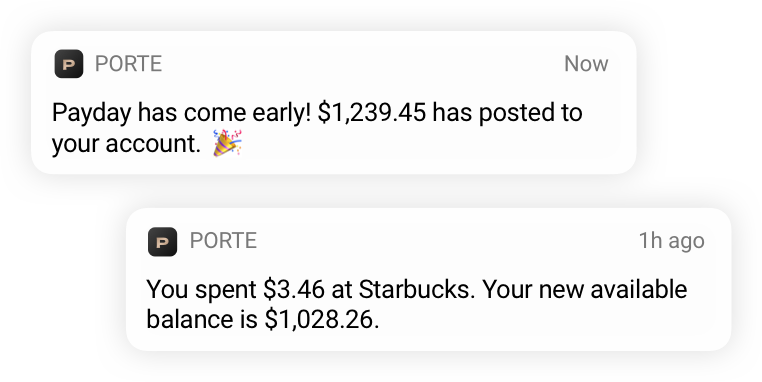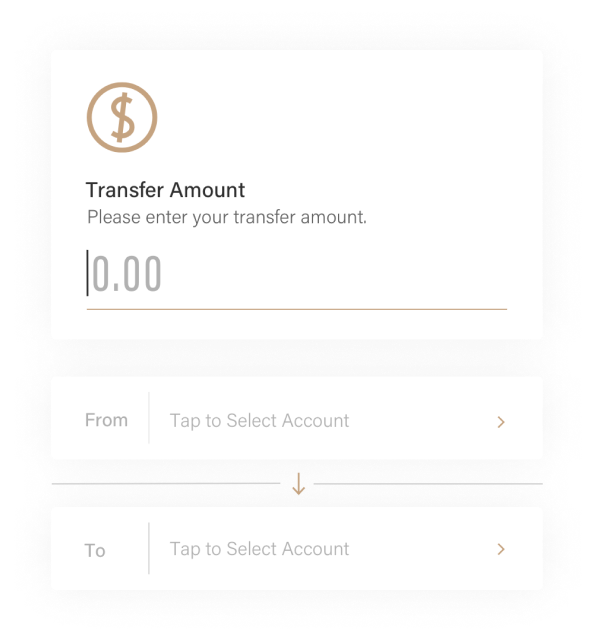 Need to move money to or from Porte? You have options!
Bank Transfers

Use the app to transfer funds directly to or from another bank account.6

Debit Card Transfers

Move money instantly to your Porte account from another bank account using a debit card.7

Savings Account Transfers

Transfer money between your Porte Savings and Spending Account anytime, day or night.
We take your security seriously
Card Lock

You have the power to lock and unlock your card through the mobile app. Never worry about unwanted charges again if your card is lost or stolen.

Secure Login

Sign in to your mobile app with fingerprint authentication or Touch ID®. We require two-factor authentication to ensure your account is always secure.

FDIC Insured

Protecting your money is our top priority. Funds on deposit are FDIC insured through MetaBank, N.A., Member FDIC.

EMV Chip

We take the security of your money seriously. Your card is safe with an industry-leading EMV Chip. Choose to insert your card rather than swipe for maximum protection.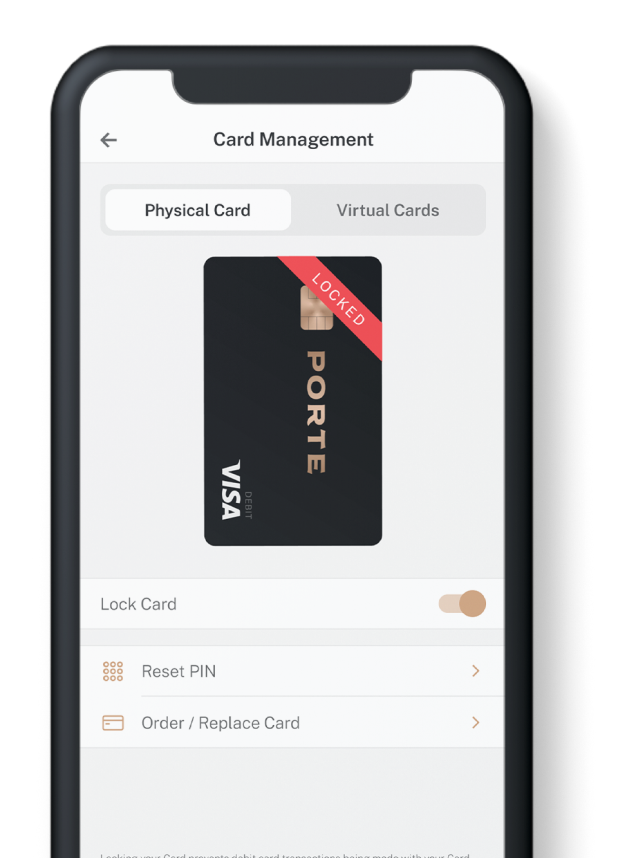 Add check funds from anywhere with mobile check capture2
You can add check funds from within the Porte app anytime, anywhere — even from your bed (don't worry, we won't judge). Just snap, send, and watch the money hit your account. It's that easy.
Shop with a purpose8
With Porte's #DoorToChange you can spend with confidence knowing that your money goes the extra mile. #DoorToChange is Porte's giving program. Select a charity supported by Porte, and we will make a donation based on how much you spend on eligible purchases using your Porte debit card.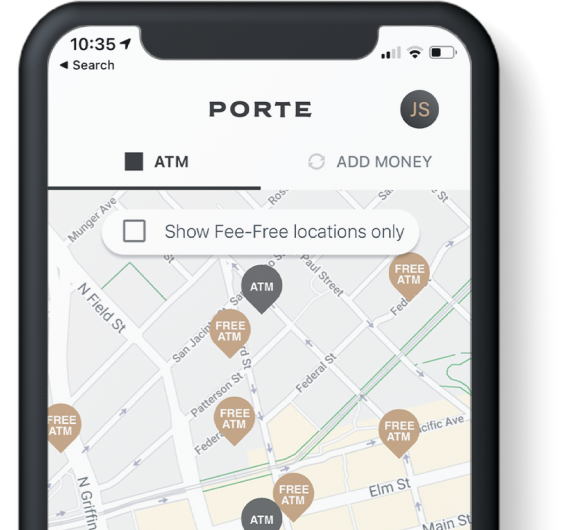 37,000+ fee-free ATMs
Say no to ridiculous ATM fees, and yes to free withdrawals. Access more of your money at 37,000 no-fee MoneyPass® ATMs located around the United States.9 Simply use your Porte debit card for $0 fee withdrawals. Need the closest ATM on your next trip? Find it in your Porte app. We're not kidding.
Say hi
No, really. Our customer support team is always available when you have questions. Skip the chatbots and talk to real humans.

@joinPORTE

EMAIL SUPPORT
Questions?
How do I sign up for a Porte account?
Sign up is easy and takes less than 2 minutes. Download the Porte app1 from the App Store® or Google Play™. Follow the steps in the Porte app. Your Porte account awaits you.
Is my money safe with Porte?
Porte is a deposit account established by MetaBank®, National Association, and funds on deposit in your Account are FDIC insured through MetaBank, N.A. For purposes of FDIC coverage, all funds held on deposit by you at MetaBank, N.A. will be aggregated up to the coverage limit, currently $250,000.00.
How do I add cash to my Porte account?
You may add cash at select retail locations for a fee of up to $3.95 per transaction4. Use the Location finder within the Porte app to find the closest location to add cash.
Can I deposit a paper check?
Use Mobile Check Capture2 in the Porte App to deposit check funds in your account.
How do I withdraw money from my Porte account?
Porte's ATM network is MoneyPass® where you can access more than 32,000 no-fee ATMs. Use the Locations finder within the Porte app to find an ATM near you.
signup section
Open a Porte account today and enjoy mobile banking that's built for you.
Apply for an account using the Porte app.10 No credit check required.11
sign me up
Porte is a mobile finance app, not a bank. Banking services provided by Pathward, National Association, Member FDIC