Whether you're someone who is preparing for college, currently in college, or considering graduate school, you might find yourself asking, "How much student loan debt is manageable for me?" While the answer varies from situation to situation, we've outlined four things to consider before taking out a student loan or borrowing more money.
anchor
1. Look at your potential careers and their starting annual salary
A great place to start determining how much student loan debt is manageable is to research the typical starting annual salary for college graduates in your field of study. Websites like Glassdoor.com, Salary.com, or Payscale.com will come in handy as you do this research.
Once you have figured out the average annual starting salary, try to have the total amount you're borrowing for student loans be lower than this number. To make this calculation you'll also need to determine how many semesters it will take you to complete your degree. Be sure to include summer semesters if you are planning to take summer courses, and need a portion of your student loans to cover those costs.
How to calculate how much student loans to borrow
Using the information in the bullets below, let's walk through how to calculate this number: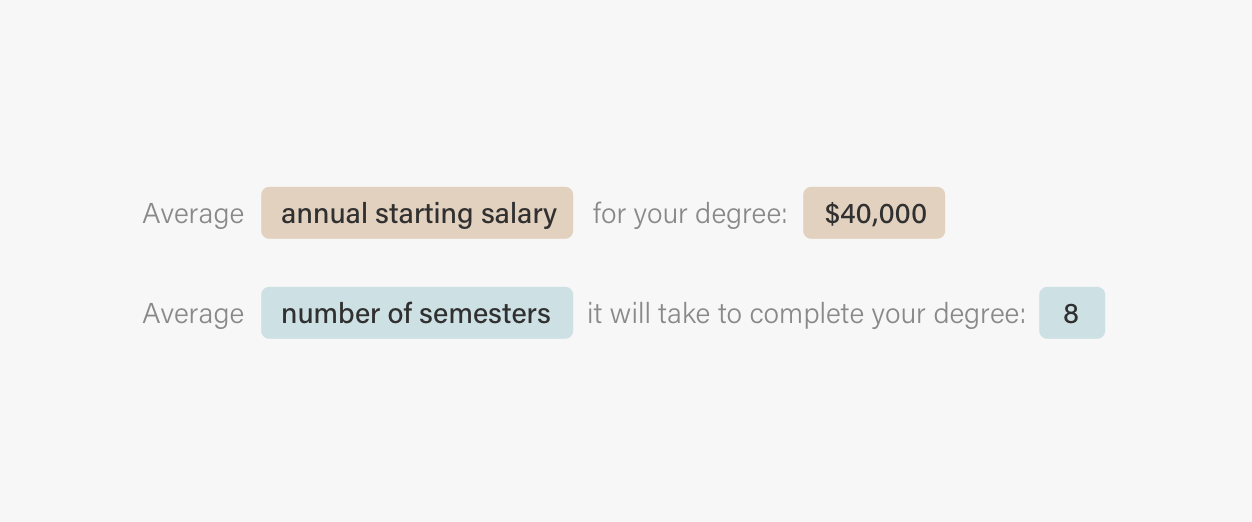 To calculate how much student loans to borrow, take the average annual starting salary for your degree and divide it by the average number of semesters it will take to complete your degree.
Using the numbers above: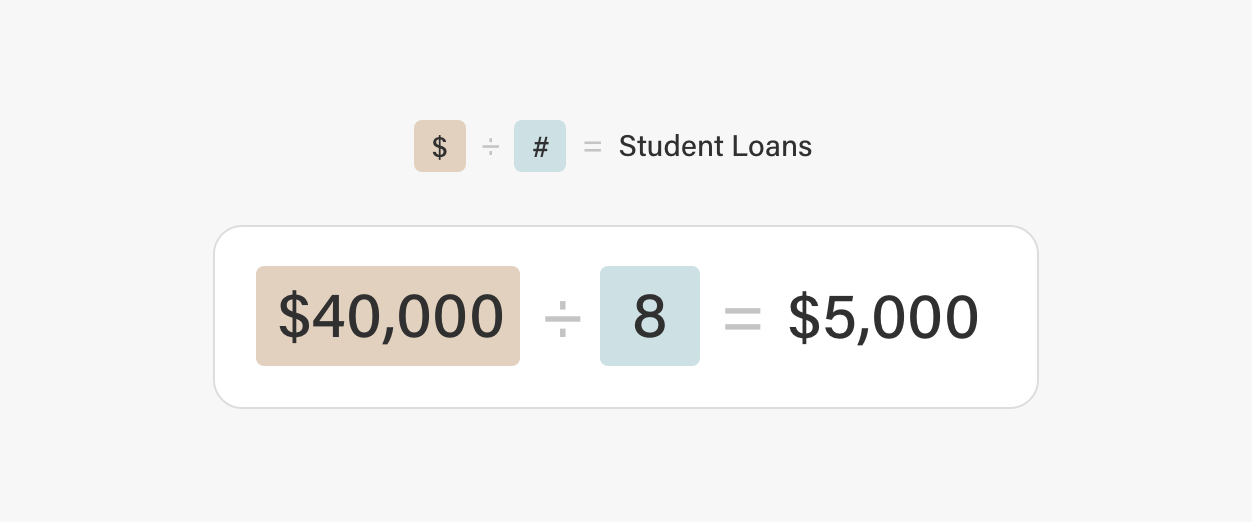 This means, ideally you would borrow less than $5,000 per semester to finish your degree with a total amount of student debt under $40,000.
anchor
2. Look at other ways to finance your education
While student loans are a common choice for people to finance their education with, it's not the only financing option. Before taking out student loans, explore all of your options. We've outlined a few possibilities below:
Grants. Unlike student loans, grants generally do not have to be repaid. Grants can come from your state government, the federal government, your college/trade school, or a private/nonprofit organization. By doing a little research and applying for the grants you qualify for, you could potentially lower the total amount from student loans that you need to borrow. For more information about grants, visit StudentAid.gov.
Scholarships. Scholarships are financial aid awards given to students who meet specific criteria determined by the scholarship-giver. Often these awards are merit-based or needs-based. Scholarships do not have to be repaid. Don't know where to start to find scholarships? Ask your school counselor or work with the financial aid office at your school. You can also ask different clubs or organizations you are a part of, or conduct an online search. Websites like Scholarships.com or Fastweb.com are good places to start.
Financial aid options through your school. Check to see what other options your school offers to help students financially. You can work with the financial aid office to see if they offer university grants, scholarships to students who hold on-campus jobs, or if they have a tuition payment plan.
Keep in mind that while this isn't a comprehensive list, it is a good starting place.
anchor
3. Look to see if you qualify for subsidized student loans
There are two types of federal student loans: unsubsidized and subsidized. For subsidized student loans, the federal government pays the interest on these loans while you are in school. While you do not need to repay the accrued interest payments they made for you, it is still wise to not borrow too much.
These types of loans are reserved for students who are in need of financial assistance. To see if you qualify for subsidized student loans, complete and submit a FAFSA form. For the latest information and deadlines for FAFSA forms, visit StudentAid.gov.
anchor
4. Look into student loan forgiveness programs
If you are interested in a public service career, check to see if your student loans can be forgiven. Graduates who work within the public sector with government organizations, non-profits, law enforcement, teaching, or military service may qualify to have their student loans forgiven.
There is a list of specific requirements you will have to meet in order to have your student loans forgiven. Often you will be required to make payments on your student loans over a set amount of time, verify you have worked in the public service sector for a specific number of years (and are currently still working in that field), among other requirements. For more information on student loan forgiveness, and to see if you may qualify, visit StudentAid.gov.
If you graduate college with debt, that's okay! It doesn't have to mean that you'll still be repaying your student loans by the time you reach retirement. By exploring all of your education financing options, and seeing what average salaries for your field of study can be, you can determine what a manageable amount of student loan debt can be for you.