Optional Savings Account
Put your cash to work
Earn up to 3.00% APY¹ with no hidden fees, no minimum balance, and FDIC insured through our partner MetaBank®, N.A. Start earning up to 40x the national average.2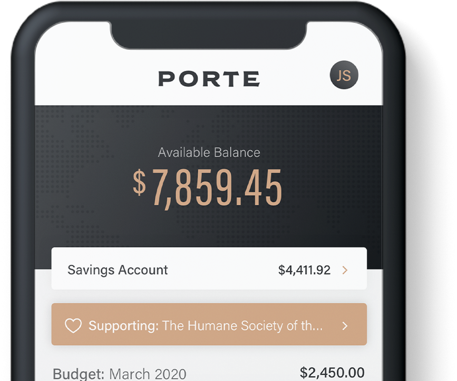 Porte Savings Account
Annual Percentage Yield
High Yield.2 Pay no account fees. $0 minimum to open.1
We make High-Yield Savings easy. No additional fees or minimum balance. Activate savings and start earning up to 3.00% APY. Compare that to the national average of .07% APY.2
Qualifying for an optional Savings Account is as easy as 1, 2, 3.
The 3.00% APY1 High-Yield Savings Account is only available to members who have received a qualifying Direct Deposit to their Porte account.
Set up Direct Deposit

$1,000 or more per month with Direct Deposit

Open Savings Account

Get started at the click of a button

Move money to savings

Start earning up to 3.00% APY1
You work hard. Your savings should work as hard as you do.
APY, or Annual Percentage Yield, refers to how much money you earn on compound interest over the course of a year. We make transfers to your Savings Account easy, so you can watch your savings grow. Now that is making your money work for you!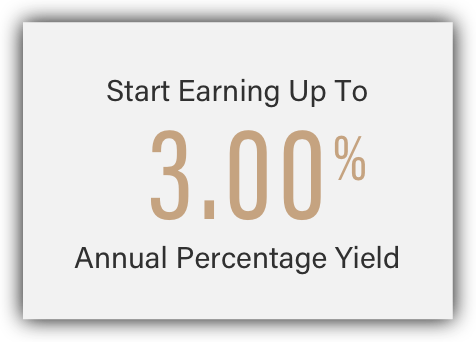 Finally, High-Yield Savings that isn't too good to be true
---
No fees. Ever.

Say goodbye to monthly Savings Account fees. It's your money. You should keep it.

FDIC insured

Keeping your money safe is our top priority. Your funds are FDIC insured through our partner, MetaBank®, National Association.
No minimum balance

$10 or $10,000. No amount is too small to earn 3.00% APY1 on balances up to $15,000. No additional deposits required.

Sign up with the Porte app3

Open a Savings Account from the dashboard after receiving a qualifying direct deposit. Let's get started!
Questions?
Why should I get a savings account?
Saving money now helps you take control of your future. You can use it to put away money now for short-term and long-term goals. Earn up to 3.00% APY8 on the first $15,000 deposited in your Savings Account and reach your savings goals.
Are there fees associated with this account?
There are no fees associated with the Porte Savings Account.
What minimum amount do I need to keep in the savings account?
There's no minimum amount that you have to keep in your Savings Account. Choose to save as much or as little as you want.
Is it safe to keep my money in a mobile savings account?
Porte is a deposit account established by MetaBank®, N.A. and funds on deposit in your Account are FDIC insured through MetaBank, N.A. For purposes of FDIC coverage, all funds held on deposit by you at MetaBank, N.A. will be aggregated up to the coverage limit, currently $250,000.00. We take the security of your money seriously, so rest easy knowing your funds are safe with Porte. 
How do I set up the Savings Account?
Once you receive a qualifying Direct Deposit of $1,000 or more in a month, you become eligible for Porte's Savings Account. Once eligible, the option to set up a Porte Savings Account will show up in your Porte app.
signup section
Open a Porte account today to start earning up to 3.00% APY.1
Apply for an account from the Porte app.3 No credit check required.4
Get The APP