A better kind of personal finance blog
4 Tips to Help You Spot Social Media Scams
Social media is a great way to connect with friends and family, follow your favorite brands and influencers, and to stay in the loop with news, trends, and offerings. Social media can also pose a threat to your personal and banking information if you're not cautious.
While scams might be common on all social media platforms, the tactics scammers use can vary. Below we've outlined four tips to help you determine if the message you've received is legit, or from a scammer.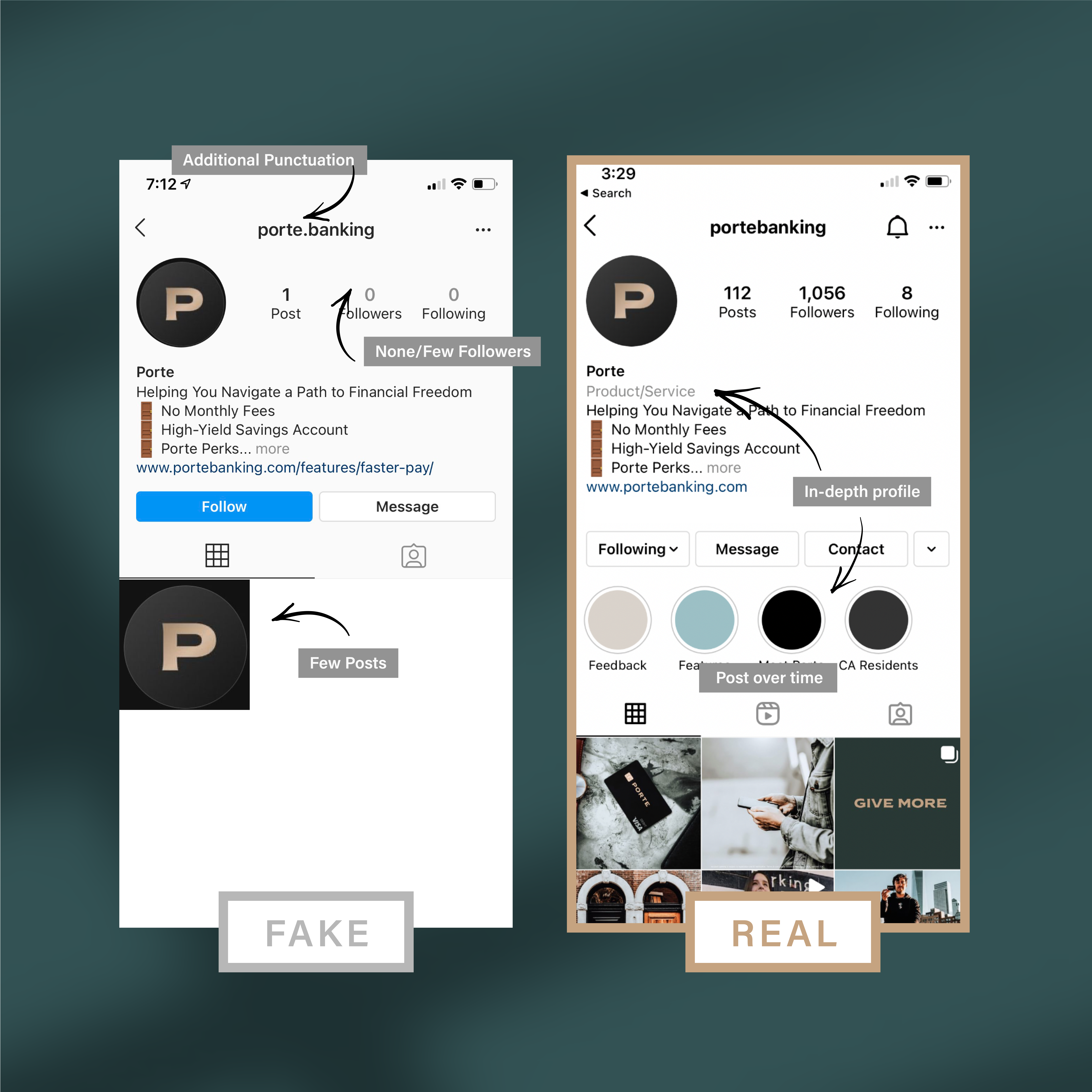 anchor
1. Check the username for additional numbers, letters, or punctuation.
Scam accounts create usernames that are very similar to official accounts. Be very meticulous when looking at their username. Check for additional or missing letters, numbers, or punctuation.
For example: Porte's official social media username is @PorteBanking, not @PortBaking or @Porte_Banking.
anchor
2. Analyze the context of the message you received.
Have you received a message saying that you've won a giveaway or sweepstakes you don't remember entering? Have you received a message asking you to click on a link? Or, maybe you've received a message asking for personal information, like financial account information, or passwords?
Before you respond to a message, or click on a link, take a moment to analyze the context of the message. If it doesn't make sense, it's most likely a scammer.
anchor
3. Visit the sender's profile.
Most brands on social media have fully filled out account information, such as a website, location, how to contact them, and business hours. If a large portion of their profile isn't filled out, it's most likely a scammer.
If the account lists an email address, pay attention to the domain the email uses. Like usernames, check for additional or missing letters, numbers, or punctuation.
anchor
4. Look through the content they're posting.
Official brand accounts typically have regularly published posts over a period of time. If an account has a few, sporadic posts, or several posts in a short period of time, it could be a scammer.
If the pictures the account is using appear blurry or modified, or if the user is reposting content from an official brand's social media profile, these can also be scam indicators.
anchor
The Bottom Line
There are a lot of indicators you can look for when determining if an account who has messaged you is an official account or a scam. The list above only scratches the surface.
For example, if the message came through on Twitter, check to see when the account was created. Or, take note of the number of followers they have, and how many accounts they are following.
The most important thing you can do is to be curious, and to take the time to see if anything seems "off."
---
Are you ready to change how you bank?
Apply for an account using the Porte app.1 No credit check required.2
sign me up
Porte is a mobile finance app, not a bank. Banking services provided by Pathward, National Association, Member FDIC